Semi-electric Swivelling Receiver
Semi-electric
Disappearing Receiver
Advantages:
Maintenance free
Ready for use very quickly
Convenient
If required, available receiver without optical design restrictions - no cover or cut-out in the bumper required
Receiver and socket are not visible in the rest position behind the bumper (when not in use)
System control with LED display and/or buzzer tone
Waterproof system, completely submersible
Socket swivels out together with the receiver and is ergonomically positioned
A disappearing system based on proven technology, which has been in use in the EU for more than a decade.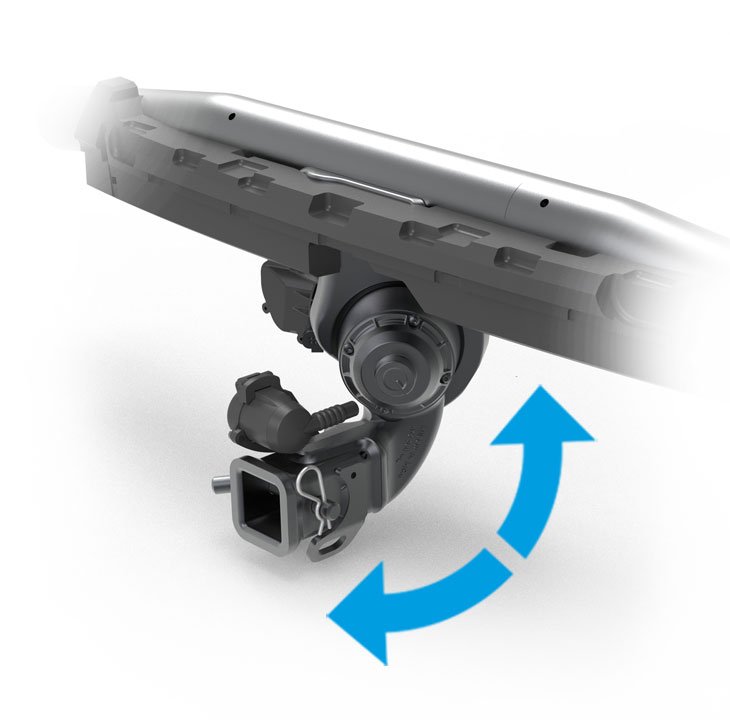 Technical data
| | |
| --- | --- |
| 1 ¼" Size | Class I - II |
| 2" Size | Class III |
What if the data given here doesn't fit your vehicle-specific requirements?
Please do not hesitate to contact us, because we also develop tailor-made components and solutions.
Hitch with Semi-electric
swiveling receiver
Handling - fast, ergonomic, compact
The semi-electric disappearing hitch is ready for use at any time at the push of a button. When not in use, it is invisible and ensures a flawless design. The disappearing receiver is unique on the market, optimally accessible for the user and ensures maximum ergonomics. The combination of tilting axis disappearing system and receiver tube is patented and is only be used by ACPS Automotive.
Instructions
At the push of a button in the boot, the receiver swivels in the direction of the operating position.
A flashing, red LED display and/or buzzing sound indicates that the lock has been released. The receiver is brought into the operating position and locks automatically with an easy hand movement.
After safe locking, the control lamp goes out and/or the buzzer stops.
Convenient, easy access to the socket outlet as it is attached to the receiver.
SUITABLE ELECTRICAL SETS
FOR OUR HITCHES
The appropriate electrical kits for our hitches are developed in cooperation with well-known wiring harness manufacturers and according to customer requirements. We offer automotive manufacturers and their authorised dealers our systems for strip installation or retrofitting. Spare parts are also available for both scenarios.
OUR OTHER hitches
for the US market
FIND OUT MORE
ABOUT US
Get in touch to find out more about ACPS Automotive and our range of technologically innovative towbars.

Contact us