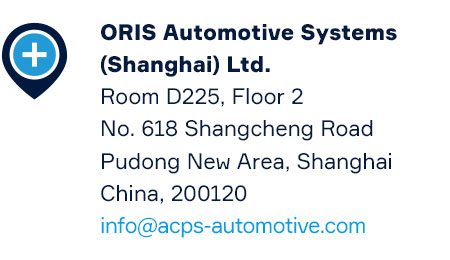 Application Engineer (m/f/d)
FULL-TIME
Innovative ideas, consistent further development of our products and the ability to create genuine novelties have made us the leading developer and manufacturer of towbars. Over 140 patents document our distinctive culture of innovation. To consolidate this position as a market and technology leader, we need bright minds, at all our locations in Europe, North America and Asia.
We believe in your talent and potential. That's why we offer you a wide range of career advancement and training opportunities. At ACPS Automotive, you can follow your own personal career path - and we'll support you along the way. Try something new, move to a different business unit, climb the ladder - anything is possible. The more you develop, the better we develop too - a win-win situation. This creates careers that are as unique as you are.
We are looking for a local Application Engineer for our office in Shanghai (Pudong) as soon as possible.
Your tasks
You are in the loop of all topics and issues around the customer and the related products.
You are the point of contact for the customer and the ACPS Automotive team by means of clarification and problem solving.
You represent ACPS Automotive and the products at the customer and the customer inside ACPS Automotive.
You have a clear overview of the customer requirements, expectations and procedures that you than try to match with ACPS's proposed product ideas and proposals.
You contribute to the QAK (list of customer specifications) to keep it up to date and clarify potential gaps.
You do monitor the customer's targeted vehicles, programs and strategy related to the ACPS Automotive products. This is to seek growth potentials for ACPS Automotive and help the customer to drive his offering towards state-of-the-art technological solutions.
You regularly review the recent project work with the Engineering manager of the PH China to outline and drive continuous improvement of the development process and the interface management.
Your qualifications
Experience in the job of customer interface engineer or application engineering or resident engineer in an international context.
Technical Engineering Degree (Bachelor or Master) in the field of Mechanical Engineering, Vehicle Engineering, or equal.
Work experience as engineer with CAD in the automotive sector, preferably as Product Engineer, CAD Designer, Development Engineer, Project Manager.
Ideally experience with packaging assessment (fitting tow bars behind the bumper) and concept creation.
Ideally competences with materials that we do use (plastic, steel, aluminum) and related processes (forging, welding, forming, coating, assembly, ….).
Knowledge regarding technical project management as well as the automotive requirements based on VDA, ISO-TS 16949, TS 14001.
Experience with PLM (Product Lifecycle Management) systems and their use for product development activities.
Very good skills in the typical Microsoft programs, especially Excel and graphic tools.
Personality with a high degree in problem solving techniques.
Experienced to work self-contained and focused to driving results.
Good competence to coordinate, being consequent, organization skills and assertiveness.
Good communication skills and social competence towards internal and external business partners (customers), being motivating and able to establish contacts and lead discussions.
Ability to react quickly on changing requirements (like timing, budgets, targets) and adopt the related work-content accordingly.
Particular capability to take over responsibility and ownership.
Fluent in English and preferably in another foreign language (like Spanish or German).
What we can offer you
Flexible working hours and mobile working are, where possible, a matter of course for us.
A friendly, open working atmosphere and motivated teams are crucial success factors for us. That's why we offer you exciting projects away from the day-to-day business, where you can contribute your knowledge and experience and learn from.
New tools, methods and processes? No problem. Helpfulness is a practice we like to put into practice. Of course, you'll always get the support you need, and not just during your induction.
We know how important further training is. Whether it's external training or in-house at our ACPS Academy, we'll find a way to support you individually.
Start now at ACPS Automotive and send us your application with your earliest possible starting date and salary expectations.

Application address
ACPS Automotive GmbH
Human Resources Department
Bertha-Benz-Str. 2
74379 Ingersheim
Germany (German)